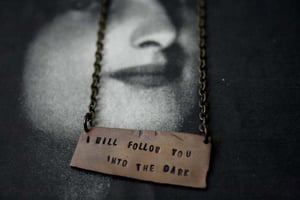 $

38.00
Always wear with you that phrase, word or favourite song.
i will follow you into the dark
tainted love
nothing compares to you
love will tear us apart
people have the power
and more!


Materials:
-copper (dark brown - see the photo)
-silver(**)
Dimensions:
it depends on your phrase, but it use to be aprox. 1.5cm (h) x 4cm (w)
Total lenght chain:
SIZE XS, 38 cm
SIZE S, 45-50 cm
Design is an irregular rectangle, hand-cut and hand-stamped by PBF.
We also can make others shapes like circles, ovals, silhouettes... if you want.
(**) Contact with PBF before make your order and tell us your preferences. Price is 60$.
♥
Please read very important information about shipping on Shop Policies.